The Masimo Radical-7™ has a serial output on the back. It is possible to connect to the Nox C1 Access Point using a standard RS-232 to 3.5mm jack serial cable.
The setup image for the Masimo Radical-7 can be seen below: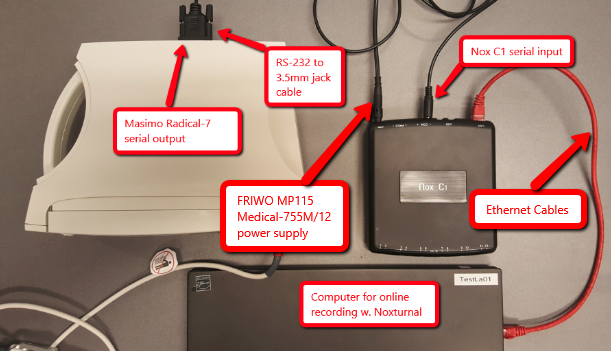 The following items are needed for the Nox Sleep System setup with a Masimo Radical-7
Masimo Radical-7

Nox C1 Access Point and a power supply*

Ethernet Cable

RS232(male) to standard 3.5mm jack serial cable
PC Computer**
Instructions on how to set up an online room in the Noxturnal Software and how to start an online recording be found here.
Instructions on how to add auxiliary devices into online rooms in Noxturnal can be found here.
*Warning: Only use power supply FRIWO MP115 Medical-7555M/12 with the C1 device. The use of an incorrect power supply may result in electric shock or cause the device to overheat, which may result in patient/operator harm.
** Warning: The computer used must comply with the international standard IEC 60950-1 for the safety of information technology equipment.
For further information please contact support@noxmedical.com
Rev.001