Overview
During the RMA testing/repair procedure at Nox Medical, it is sometimes necessary to fix issues that can lead to the Bluetooth Address of the A1 device to change.
The change of the Bluetooth Address can affect the Nox A1 online PSG system when the repaired device is put back into use. In some cases, it might behave like there is no way to find/connect to the device again. The article below will show possible ways of how to fix that scenario.
Troubleshooting
If the device is not connecting to the online room after service try the following:
Re-Add the Nox A1 to the online room
1. Navigate to Tools -> Online Rooms
2. Select The Nox A1 and click "Remove Device"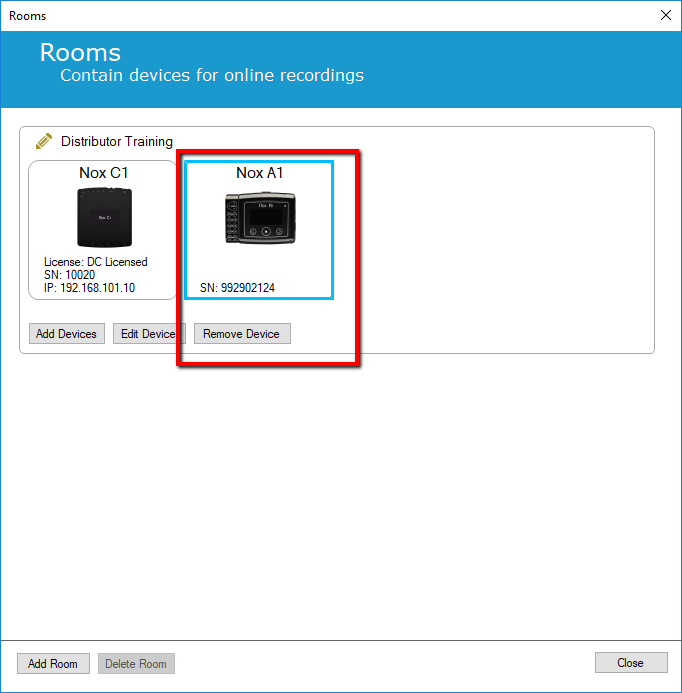 3. Select "Add Devices"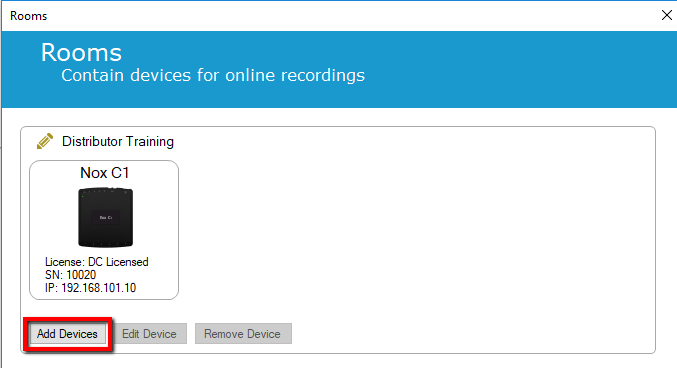 4. Select the Nox A1 in the Room and click "Remove Device"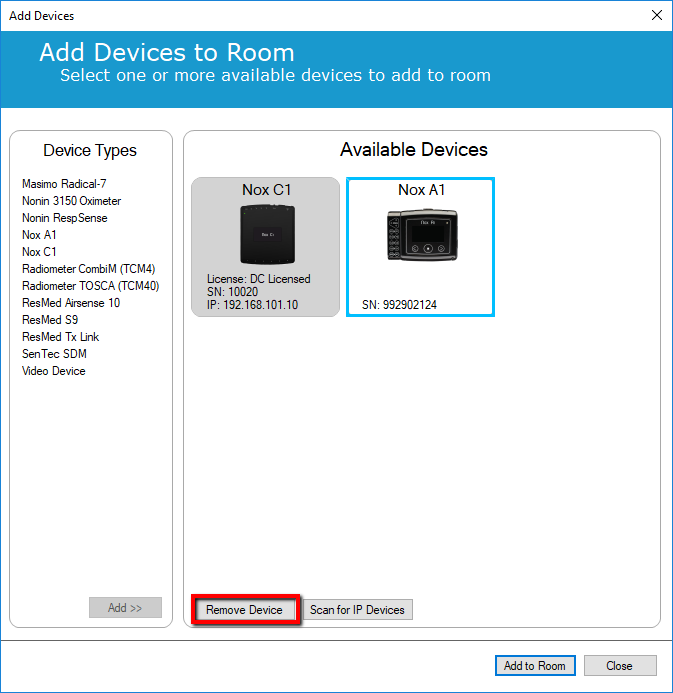 5. Now add again the Nox A1 into the room by selecting Nox A1 in the Device Types section and either double-click or select "Add".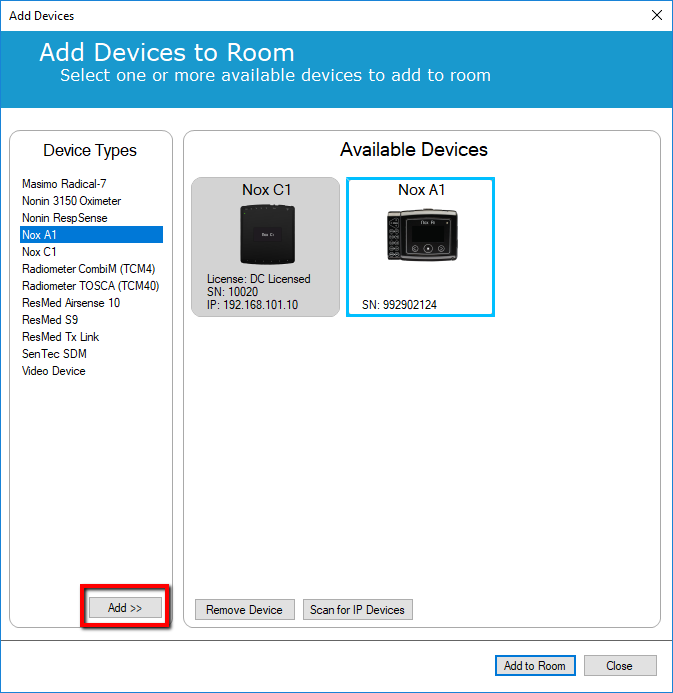 6. Add the Nox A1 with by putting in the serial number and add the device by clicking "Finish"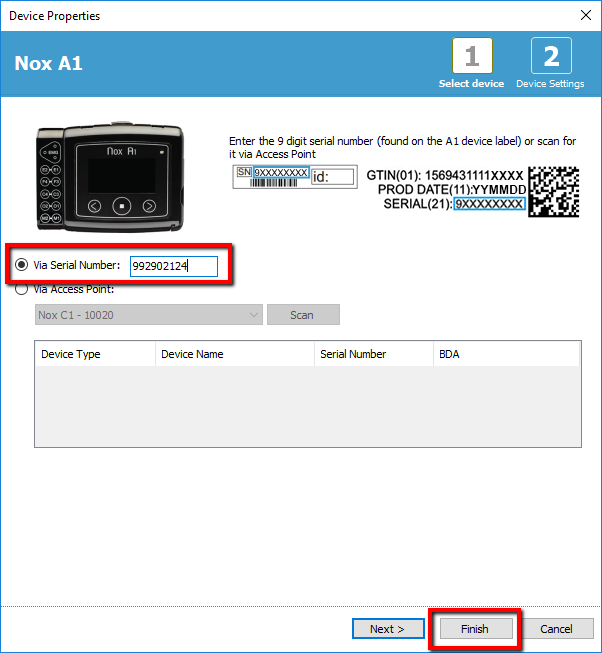 7. Click Add to Room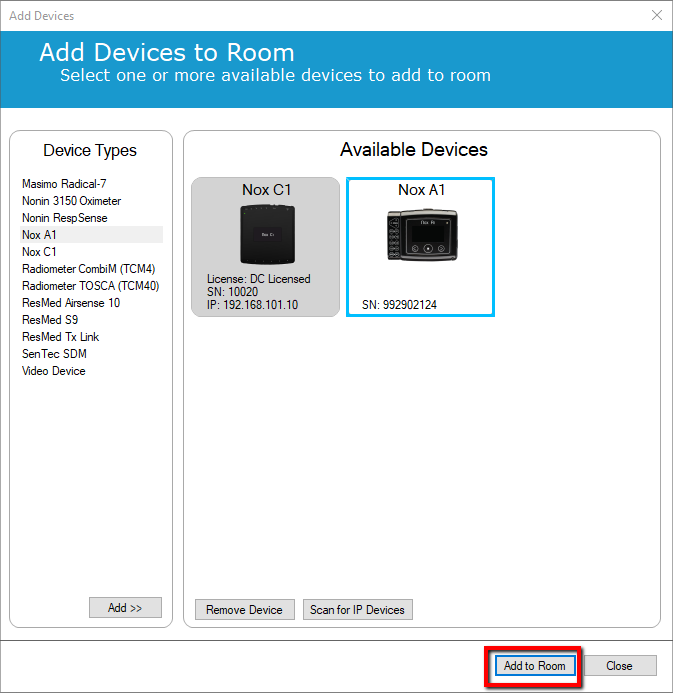 8. The next step is needed to clear the information about the Nox A1 from the Nox C1 memory.
Note that this step will put the IP settings of the devices back to factory settings (see below). If the settings have been modified in Noxturnal the Nox C1 needs to be re-added into the online room.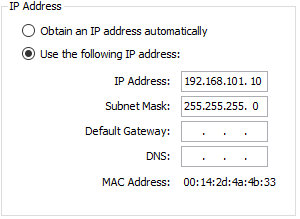 To reset the device find a non-metal pick that can be fitted into the reset hole on the back of the Nox C1 (e.g. toothpick).

While holding in the pick, unplug and replug the power cord of the Nox C1. Hold in the pick until the Nox C1 starts to blink green and amber. The reset might take up to 60 seconds.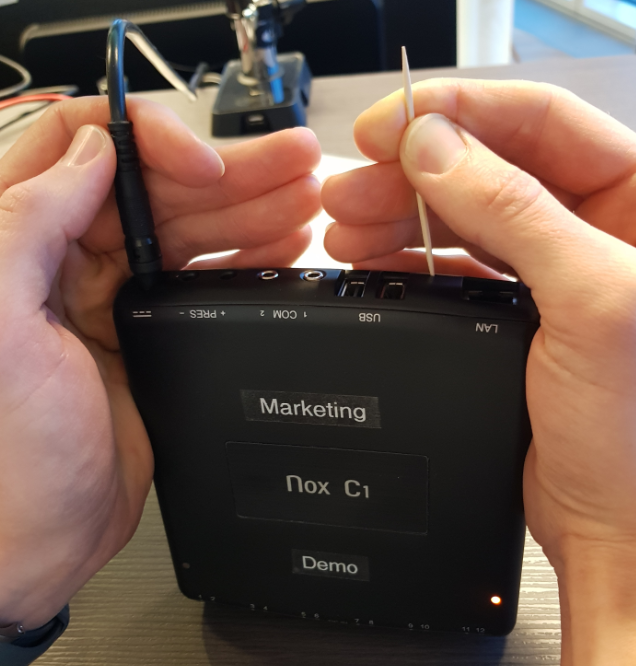 9. The final step is to start Noxturnal and perform a test study. The device status window should display that Noxturnal is looking for a new Bluetooth address.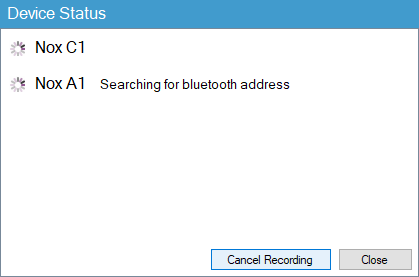 If all steps are completed correctly the recording should start as expected.
For further information please contact support@noxmedical.com
Rev.001