The Nox W7-Link is a Bluetooth adapter that enables wireless communication between selected auxiliary medical devices and Nox recorders during ambulatory studies.
Three different Nox W7-Links are available:
Nox W7-Link A connects to:
ResMed™ AirSense 10 and AirCurve 10 (requires Air10 serial adapter / PN 37356)
Nox W7-Link R connects to:
ResMed S9 (requires S9 Embletta adapter / PN 36955)
Radiometer™ TCM4, TCMCombiM, TCM40, TCM TOSCA (requires Radiometer extension cable, available from Radiometer authorised distributors)
Nonin™ RespSense
Nox W7-Link S connects to:
SenTec™ Digital Monitor System (SDMS)
Contents of the Nox W7-Link kit:
Nox W7-Link
Power adapter (US and EU adapter) and USB/mini-USB cable
DB9 male to male mini null modem
Instruction leaflet
Configuration in Noxturnal: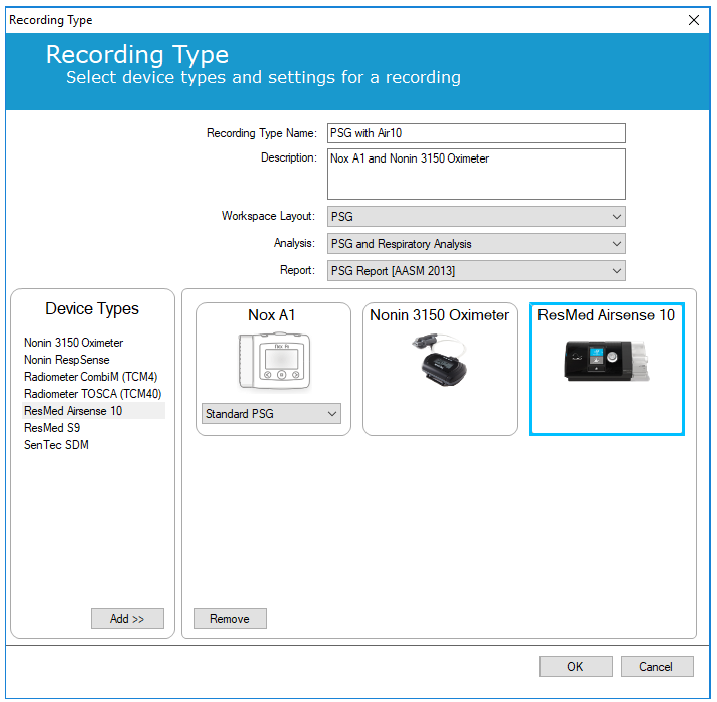 To use a Nox W7-Link, you must create a specific recording type.
In Noxturnal, open Devices > Recording Types and create a new Nox T3 or Nox A1 ambulatory recording type. Use the left column to add devices, including the auxiliary device you want to connect with the Nox W7-Link. Save this newly created recording type by clicking on OK.
When configuring an ambulatory study, select the appropriate recording type.
If using the Nox T3, type the 9-digit serial number found on the label of the Nox W7-Link.
If using the Nox A1, type the 12-digit BDA number found on the label of the Nox W7-Link.
Physical setup:
Power the Nox W7-Link using the power supply provided in the Nox W7-Link kit.
Starting an ambulatory study:
Turn on the auxiliary device. Turn on the Nox recorder if you selected a manual start or wait for the device to start automatically if you selected a scheduled start.
There are two LEDS on the Nox W7-Link, one blue and one green. During the recording, both should be blinking. Refer to the following table for LED status.

LBL-0065 REV3