The logic for the licence is as follows:
When you install a license it looks for all MAC addresses (one for each network adapter) and tries to tie the license to the most fitting one (defaults to Ethernet adapter if memory serves, then wifi and lastly network dongle)


When the license check is made it scans all network adapters and reads their MAC addresses. If one of those MAC addresses matches the one that the license is attached to, the license is valid.

In the past we have seen cases where some computers completely hide network adapters that are not in use. An example of this would be where the WiFi is switched off and the computer pretends that there is no WiFi card. In that case, if the license was originally tied to the WiFi card, the MAC address for that WiFi card cannot be found and the license is invalid.
Additionally, some virtual networks/VPNs seem to have similar effect where the hardware MAC addresses are masked.
Step-by-step guide and example:
Below are pictures of an example PC identifier and Ethernet MAC address. There should be a match between the two.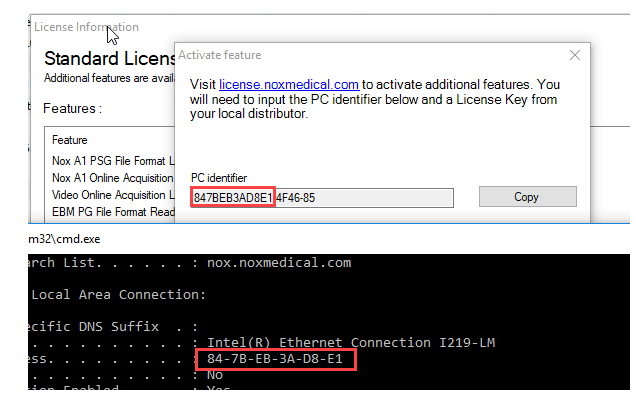 If you have activated a license and later discover that it is not longer activated you can check the computer to see if your PC identifier has changed. Furthermore, check if the current PC identifier matches any of your MAC addresses in case of more than one network card in place.
Go to the start button on your PC and open "Command Prompt" Once you have command prompt opened write ipconfig/all to see the MAC addresses of all your network cards. This could help you identify the problem by seeing which network card is possibly interfering with your regular PC identifier. It is likely to be the VPN connection. If your "new" PC identifier is now based on another MAC address then your original PC identifier consider to disable or disconnect from the network card that is interfering.
If you experience trouble following these instructions please contact Nox Medical support at support@noxmedical.com