Devices that experience failures that cannot be corrected by troubleshooting need to be sent in to Nox Medical for repair.
Before sending devices in for repair, RMA number needs to be obtained from Nox by contacting us via support@noxmedical.com or by submitting an Issue Report on the support site.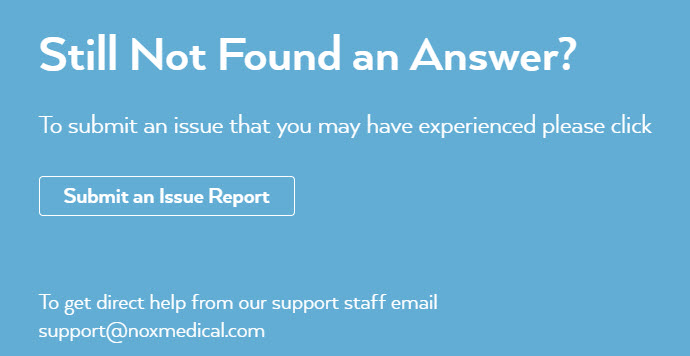 Submit an issue with the following details:
Serial Number / Lot Number
Hardware version
Firmware version - if applicable
Provide detailed failure description
Provide image showing damage - if applicable
If possible provide steps to reproduce the issue
Severe Cases for recorders: Provide recording and device logfile + setup.ini (see here how to access logs)
Information regarding warranty on products can be found in the Product Catalog.
Shipping cost of RMA to Nox Medical is covered by the sender and Nox will cover the shipping cost of the return delivery. In case of out of box failure, Nox Medical will cover all shipping costs.
Ship RMA products with Tariff code 90181900 to:
Nox Medical
Katrínartún 2
105 Reykjavík
Iceland
Contact person:
Thorunn S. Jonsdottir,
thorunn@noxmedical.com
Tel: +354 570 7198
LBL-0072 Rev02